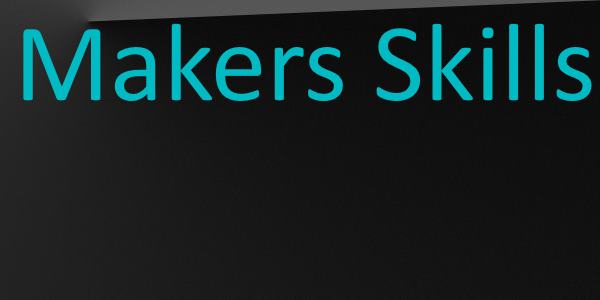 We live in a wonderful world of technology. Gadgets surround us at all times and make our life easier, more productive, and more comfortable. However, we also seem to have an absolute myopic fixation on digital gadgets. Computers, and the software that runs on them, are wonderful vectors for information and calculation. Hell, it's thanks to digital technology that you are even reading this article!
Despite all this, I have often felt disconnected from everyday technology. One day, my ignorance of everyday gadgets really started to bug me. How are things in the world of atoms put together? How do we make structures sturdy? How do we manipulate various materials to make things beautiful?
Tired of wondering, I set out to find answers. One of the first books I bought was titled The Big Book Of Maker Skills. This little beauty, written by Chris Hackett, is a fun introduction into the world of tools. This book provides 200+ pages of information on various tools, and the projects you can create using those tools. This is a fun book to flip through, as every page has helpful pictures showing the tool/technique being discussed.
This is a great book for people who are looking to learn more about building things. It provides a pretty broad overview of the world of tools, which allows the reader to find their own personal interests. It's a great book for artists looking to expand their skills, home-renovators looking for a place to start, or experienced craftsmen who want to fill in the gaps of their knowledge.
What I found most interesting about this book – besides its "obtainium" aesthetic – is that it clearly illustrated just how little you need to make cool stuff. With some scrap metal, a hammer, a forge, and an anvil, you can make just about anything you need….including other tools!
The book has a number of sections, of which I will give a brief overview:
Basics
This section is ten pages long, and provides a brief overview of all the high level stuff involved in making stuff in your workshop. This sections provides a number of practical tips on issues such as:
Workshop Lighting
Power Supply
Storage
Planning and Executing Your Projects
Basic Safety Tips
After that, it gets to the good stuff…
Hand Tools
As with all sections in this book, this section is filled with beautiful pictures and illustrations. It begins with measuring tools, and proceeds to go over:
Hammers
Fasteners
Wrenches, Screw Drivers, Spanners
Saws
Wood, Wood Finishes, And Wood Joints
Chisels, Snips, Clamps
Welding Tools
Many Other Useful Tools
Interested in picking up a new hobby? Check out my article on blacksmith anvils and use it to begin forging your own hand crafted goods!
Power Tools
This section takes up the bulk of the book and covers everything from saws and buffers to tools for electronics. Because of this, I won't go over every tool listed. Besides, that would be kind of spoiling the book. It's fun to flip through and I don't want to reveal everything contained within it.
This is a fun book, and I highly recommend it to people who are looking to make their ideas a reality! Get your copy on amazon -> The big book Of Maker Skills