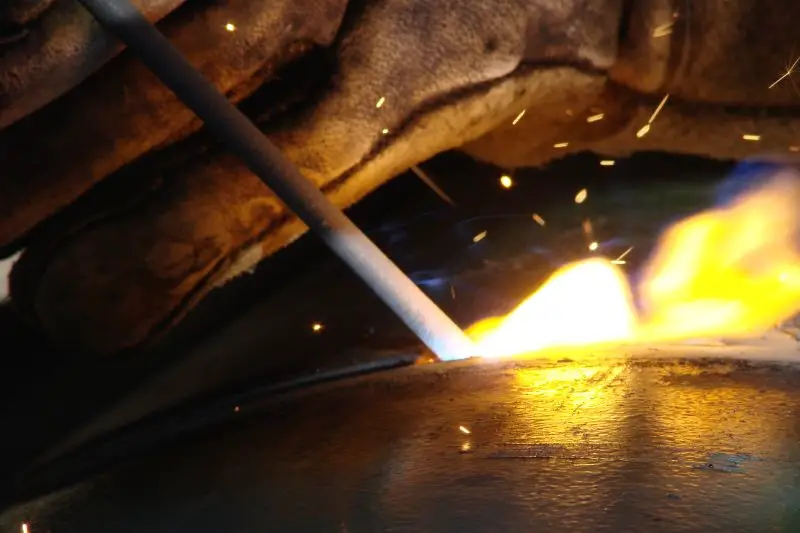 Picking out a shirt to wear is such a simple task in day to day life, but when you play with fire – as welders are known to do – you may find it's a little more difficult to find a shirt that won't look like swiss cheese after a day or two in the shop. What kind of materials should welding shirts be made of? How do you dress for welding when you are working in the middle of the sweltering summer? Which clothes minimize the chance for burns?
These are all good questions, and I will do my best to answer them. Once we have examined all the important factors, I will then present a review of some of the best welding shirts for sale online.
Type Of Fabric To Wear When Welding
One of the most basic and important things to consider when looking for a welding shirt is the shirt's fabric. AVOID SYNTHETIC MATERIALS. Shirts made out of materials like polyester or nylon will not work. These synthetic fibers will burn into a liquid like goo that will stick to your skin and burn the shit out of you. This is an unpleasant experience and leaves some uglier than normal scars.
If you want a larger list of synthetic fibers, check out the wikipedia page on synthetic fibers.
But it may be easier to focus on the types of fabrics you CAN wear as opposed to the ones you can't…it's a much smaller list!
Heavier fabrics such as leather (best), wool, denim, or cotton will all work. Although cotton gets chewed up pretty fast and the other three can be too hot for summer (more on that later).
So what about mixed fabrics?To be safe, avoid mixed fabrics. Skins grafts cost a lot more than a high quality shirt, so be picky here
If you are ever unsure, you can always test the shirt by sticking it under a lighter or over a candle. If you see any pooling or puddling of the shirt material, stay the hell away from that material, and don't wear it while welding. Be careful though, this test isn't the same as a production environment, and it is not a perfect test for unknown materials.
Should You Starch Your Welding Shirts?
Many welders swear that starching their welding shirts will greatly increase the longevity of their clothes. This has the added bonus of making your clothes look stiff, a look some people like. Personally, I'm too lazy to starch, and I don't really care how I look while working.
But it's worth mentioning, as quiet a few welders swear by it.
If your at all curious, you might as well give it a try. You can buy ready to spray clothing starch pretty easily here, but you will pay for the convenience.  I find it's generally cheaper to make your own sprayer and then buy the starch in bulk.
One word of caution on starching, I don't recommend starching special fire resistant shirts. The starch may interfere with the FR properties of the shirt source
Leather Protection – The Only Way To Truly Protect Your Shirts
While this is an article on welding shirts, the truth of the matter is that all shirts will wear down in time. The only way to really protect your shirt is to get a leather apron or bib that will protect the shirt you're wearing while working.
Welders work in extreme environments, even the best designed shirt doesn't stand a chance against the heat; the material is just too thin.
I highly recommend some form of leather protection.
Clothes That Help You Deal With The Weather While Welding
When welding we deal with temperatures that are hot enough to melt metal. Combine the heat inherent in the job with a climate that is too hot and you have a sure fire recipe for misery. What do you do when it feels too hot outside to wear your leathers? It's easy, just move somewhere else….
Ok, I'm joking, but the truth is if you live somewhere where it's unbearably hot, welding is going to kinda suck no matter what you do.
Too Hot
There is no magic shirt that will keep you cool from the weather and keep your skin free from burns. I wish there was. Just try to stay hydrated, and if your work allows it, try to avoid working during the hottest part of the day. I can't really give advice as to whether it's ok to take off your leathers to stay cool, as the laws and regulations vary, and I don't want to be held liable for some dunderhead hurting himself….
Too Cold
Luckily this isn't an issue for most welders. Welding gear tends to be pretty thick and you can always put on more undergarments to stay warm. The biggest thing to remember is to just stay dry.
Does Your Workplace Require FR Shirts?
Another thing to consider when looking for a good welding shirt is whether or not your employer requires a fire resistant shirt specifically. Many large companies (that pay large salaries) will require a FR shirt. Check with whoever is in charge and make sure you are working within the rules and regulations.
You might not think you need a fire resistant shirt, or you may think they are overpriced and not worth it…doesn't matter. Regulatory bodies crack down hard for safety violations, so don't be an asshole and make life harder for your employer – wear a fire resistant shirt if it's required of you.
Limit Your UV Exposure
Most shirts that are designed to protect you from burns will be pretty thick, this has the added benefit of also protecting you somewhat from uv exposure. UV rays are another reason not to wear a super thin cotton shirt, they may not provide you with adequate UV protection.
If you are in doubt, just wear protective leather gear. Seriously this stuff solves most problems.
Be Wary Of Welding Shirts With Uncovered Pockets
This is simple but easy to forget. Pockets tend to get pieces of hot metal stuck in them, this is bad for your shirt and bad for your skin. Buy shirts without pockets or find a way to tightly close them off with fire resistant material.
Best Welding Shirts (Review)
Alright, now that I have covered all the relevant factors that you need to consider when buying a welding shirt – meanwhile making the whole thing seem way more complicated than it needs to be – It's time to look at some of the best welding shirts for sale. I will try to go over a couple of different varieties such as: western welding shirts, flame resistant welding shirts, and I will even go over a couple of good leather options.
Best Flame Resistant Welding Shirts
My top pick for flame resistant welding shirts is a khaki dress shirt made by Rasco. This 10oz shirt is made from 100% cotton twill. It has deep pockets that have a snap on lid for extra saftey. According to the supplier, this shirt is compliant with NFPA 70e, NFPA 2112, and ASTM F1506.
It has an ATPV rating of 14 cal/cm2 – HRC 2.
At the time this article was written, this shirt comes in 6 different colors. These colors include: khaki, denim, gray, brown duck, navy, and green duck.
This is a solid shirt that weights 10oz and will provide a good amount of protection relative to other welding shirts.
To sum up:
100% cotton
10 oz Flame Resistant Khaki Shirt
It comes with western style snap buttons
The pockets have flaps that snap shut
NFPA 70E HRC2, NFPA 211, ASTM F1506
Many satisfied customers
This shirt strikes a good balance between being lightweight for comfort, and heavy enough for some light skin protection.
---
Next up we have the Revco Black Stallion flame resistant cotton work shirt 
This shirt is lightweight and very breathable coming in at 7oz. It's made of cotton and has two chest pockets with flap. At the moment it only comes in the color grey. This shirt currently meets the requirement of ASTM 1506.
To sum it up:
Made of cotton
Lightweight, only weighs 7 oz.
Meets the ASTM 1506 standard
Comes in a number of sizes, all colored grey
Many satisfied customers
This is another good welding shirt that will keep you cool and comfortable in the shop. It's a good shirt and I believe it will serve you well.
---
Best Western Welding Shirts
I found it surprisingly difficult to find shirts that were "sufficiently" western. Many of the western shirts I found had a nylon mix to them which  makes them no good for welding. Luckily I did manage to find some shirts that fit the bill.
This first shirt comes in denim blue and denim black. It is 100% cotton and weighs 7 oz making it light enough for comfort but thick enough for some level of protection. It is western style with snap buttons. It has pockets with flaps that snap for extra pocket security.
According to the sales page, it is compliant with the NFPA 2112 and NFPA 70e HRC2. The sales pictures shows a compliance badge on the shoulder but one customer review reported that the badge was missing on his shirt.
To sum it up:
100% cotton
7 oz Flame Resistant Lightweight Denim Shirt
It comes with western style snap buttons
The Pockets have flaps that snap shut
NFPA 70E HRC2, NFPA 2112
These shirts are made to us standard sizes
This shirt strikes a good balance between being lightweight for comfort, and heavy enough for some light skin protection
---
This next one looks slightly less western to my eyes, but it too has the western style pockets with a flap that snaps shut. It's made from 100% cotton and weighs 7.5 oz making it marginally heavier than the last western shirt examined.
It is HRC 2 – NFPA 70E compliant with ATPPV RATING 7.50 HRC 2 protection. The shirt only comes in gray but it has many good customer reviews which back up the quality of the product. The majority of buyers report that the shirt fit as expected.
100% cotton
7.5 oz Flame resistant lightweight khaki shirt
It comes with western style snap buttons
The Pockets have flaps that snap shut
HRC 2 – NFPA 70E
Most buyers say the shirt fits as expected
This shirt strikes a good balance between being lightweight for comfort, and heavy enough for some light skin protection
This is a solid Khaki work shirt that should hold up for many hours in the shop. It looks professional and should work well for most welding jobs.
Best Welding Leathers
While for certain types of work it may be easier to use a leather apron + leather sleeves, it's often cheaper and easier to buy a full leather jacket. These jackets provide a good amount of protection relative to other options, and as an added bonus they look nice.
First up, we have a welding work jacket that is made from heavy duty split cowhide leather and is sewn with kevlar thread for extra strength and durability. This jacket has an inside pocket that is good at protecting valuables (such as your phone) and has a soapstone pocket on each sleeve for some extra storage.
A small point, but one that is particularly important to me, is this jacket has premium heavy weight reinforced buttons. I break so many buttons on my jackets and shirts that this "little" feature is a huge deal for me. It also has an adjustable stand up collar that allows additional protection around your neck when you need it.


To sum up:
Made from heavy duty split cowhide leather
Sewn with durable kevlar thread for extra durability and strength
3 handy pockets that are out of reach for most metallic debris
HEAVY DUTY BUTTONs – man I love this
Adjustable collar for extra protection when it's needed
Over the long term, a leather jacket is one of the most cost effective ways to go as a welder. Leather is a much thicker material than anything that t-shirts are made out of, and should last you a good long time. Compared to having to replace your shirt every 2-6 weeks, It won't take long to get your money's worth on a good high quality leather working jacket. This is a great welding shirt for beginners.
Stitches, the Weakest Point
I put this at the end of the article as it's not necessarily helpful for choosing a welding shirt, but I often find that the stitches in my shirt tend to burn up and wear out before the other parts of my shirt. I have heard of some welders getting custom leathers that have inside out stitching so that they last longer!
Washing Your Flame Resistant Welding Shirt
Eventually you will have to wash your fr welding shirt. While modern flame resistant shirts are much better about retaining their fire resistant properties after a wash, it's still worthwhile to wash your shirts with proper technique. I'm not an expert in this particular arena, so I defer to the fine folks over at ORR safety who took the time to write up a guide – source
Conclusion
Welding is a lucrative and rewarding profession – however it does come with little problems as do all professions. It's a pain in the butt (and your wallet) having to periodically replace your work shirt every few weeks. Hopefully, with the help of this guide, you will find and purchase a high quality welding shirt that will last you far longer relative to inferior welding shirts.
Title image Source