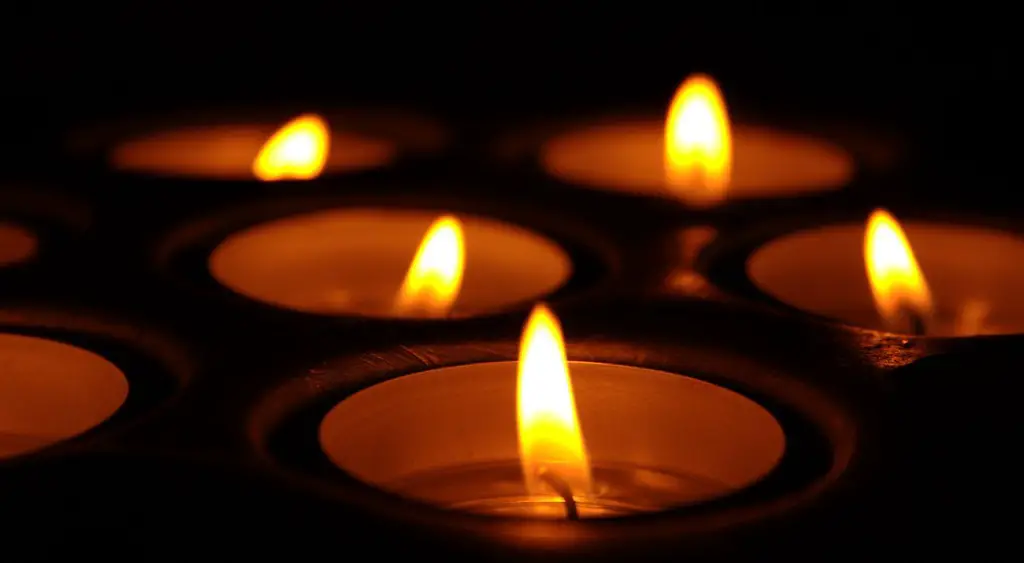 Why is it that people love candles so much? Afterall, candles are waaaaay less efficient than lightbulbs. Why is it that people pay 20+ dollars for a glass jar full of wax? It's not for efficiency, that's for sure. A typical candle provides a tiny fraction of the light that a light bulb would.
Candles are also significantly less convenient. They must be lit, the wax is vaporized (thus constantly reducing your fuel supply), the wick can become too long or too short, and they are a fire hazard. Finally, once you are done with your candle, you must put it out, which creates a grimy mess of soot and smoke. This is not convenient at all when compared to a light!
And yet, candles are a 2 billion dollar plus industry. Clearly candles offer much more than a superficial utilitarian glance would warrant. Candles can provide a sensual ambience that can serve a multitude of purposes. They can be used to make a room feel more "homey", they can be used to provide a divine or otherworldly atmosphere in an otherwise mundane room. They can be used to "set the mood" or to imprint a particular smell to your home. In short, candles are a versatile mood setter.
So if candles provide such a transcendental experience while lit, why is it that people are so content to unceremoniously snuff out their candles with a crass huff and puff? People that are drawn to the quiet ambiance of candlelight are apparently ok with blowing out their candles like they are the big bad wolf. I guess there is nothing like ending your luminary experience with a big blast of spit-filled air…
Or you could put out your candle with a bit of class, like our ancestors used to do. You could use an elegant little tool known as a candle snuffer. These utensils feature a hollow cone shaped object at the end of the handle that are used to elegantly extinguish a flame. These tools comes in a variety of materials such as a timeless brass, futuristic nitinol, practical stainless steel, and even a hardy cast iron. These tools are often plated in a regal silver or gold.
If that weren't enough, candle snuffers often come with a beautiful floral or Victorian engraving pattern – although you can get simple ones that won't stand out if you wish.
With so many candle snuffers available, you may be wondering which one is right for you. To help ease this process I have compiled a list of some of the best snuffers on amazon.
How Does A Candle Snuffer Work?
There are two primary ways to put out a fire. You can eliminate the fuel source, or you can eliminate the airflow that is providing the oxygen necessary for combustion. A candle snuffer relies on the second method to put out a candle. It cuts the fire off from airflow in a way that is clean and efficient.
Why Use A Candle Snuffer?
Why use a candle snuffer? What are the candle snuffer benefits?
Simply put: candles can be messy, if they are not put out properly it's easy to get soot and wax on the floors and walls around the candle. Candle snuffers are also used to reach candles that are out of reach or in awkward positions.
Finally, I personally find it way more elegant than blowing a candle out or snuffing the fire with your finger.
9" stainless steel snuffer
Can work with any home decor
1.5" pivoting head for easy snuffing of awkwardly placed candles
Sleek silver coat
Lightweight
Easy cleaning
The first candle snuffer on our list is a low-key 9" stainless steel snuffer. This is a minimalistic and versatile candle snuffer that will fit in inside any home. It features an easy 1.5" pivoting head that makes it easier to snuff out candles that are placed above your head. This candle snuffer features a silver coat and a sleek etching that provides additional grip control. This is made out of durable stainless steel that still comes in at an incredibly lightweight. It can be used on pillar candles and features a head design that allows for easy cleaning should you get wax on it.
Overall this is a great candle snuffer, and one of my top picks!
6" brass snuffer
Can work with any home decore and comes in multiple colors.
1.6" floral head
Silver or gold coat
Lightweight
Easy Cleaning
The second candle snuffer on our list is a 6" brass candle snuffer that feature ornate decoration. This brass comes with either a gold or silver coating, and features a beautiful flower as the snuffing head. The flower head comes in a number of colors such as red(my favorite), purple, green, blue, and yellow.
This candle snuffer will be sure to receive many comments and is a great accessory to any room.
7" long brass handle
Will work well with antique or victorian style decor
2.5" long snuff head
Brass coloring
LightWeight
Easy cleaning
While not technically an antique, this ornamental brass candle snuffer is sure to wow guests and family alike. This candle snuffer features a beautiful Fleur de lis motif giving it an "old world" feel. It features a 7" long handle with a 2.5" bell, both of which are made of brass. This candle snuffer is the perfect thing for those of you with more aristocratic tastes.
7" long brass handle
A timeless look that will work with most decor
Brass Snuffer head
Wooden coloring
Lightweight
Easy Cleaning
This candle snuffer has a 12"long wooden handle which gives it a nice earthy feel. It has a HANDCRAFTED brass snuffer head which will allow you to extinguish flames with style and grace. It's easy to handle and will look great in your home!
10.75" handle
A timeless look that will work with most decor
Floral snuffer head
Silver coloring
Lightweight
Easy cleaning
Last but certainly not least, we have a silver floral candle created by Godinger. This Snuffer features a silver color and a 10.75" long handle and has a snuffer top about the size of a quarter. This is a timeless look and will be able to match any changes in style you may go through in the coming years.
When Was The Candle Snuffer Invented?
According to this source, Candle Snuffers were patented in 1776 by Christopher Pinchbeck the Younger. Christopher was an inventor who in addition to the candle snuffer also invented the "pinchbeck" alloy, which is a brass alloy that looks a lot like gold. According to wikipedia, this alloy consists of either 89%copper + 11% zinc or 93% copper to 7% zinc.
His other inventions aside, The Invention of a candle snuffer was significant as it was invented hundreds of years prior to the widespread use of more modern lighting sources. Candles may be dim, but they were the primary way of lighting the dark for many centuries.
How Do You Clean A Candle Snuffer?
As with any wax stain, you really have two options. Option number one, you freeze the wax making it hard and flakey, after that, you scrape off the frozen wax with a knife or scraper. Easy peasy! The second option is to heat up the wax and then have the wax drip onto a paper towel.
Personally I usually just scrap it off, and I have never had any issues with scratches or blemishes.
Can I Use A Candle Snuffer For A Tiki Torch?
This is a surprisingly common question. Most candle snuffer heads are about the size of a quarter, this is too small to effectively snuff out tiki torches. It's probably possible to buy or build one large enough for tiki torches, just don't expect to be able to acquire one for cheap commodity- like prices.
Where can I buy a Candle Snuffer?
They are usually available online on sites like amazon. They are small and cheap to ship and you can usually get much better prices online than you would get in big box stores.
Contains a wick trimmer
Contains a wick dipper
Contains a wick bell snuffer
Each pieces is approximately 7" long
Made from steel.
This set contains a wick trimmer, a wick dipper, and a bell snuffer. This kit will serve all your candle needs at an affordable price. Each tool is approximately 7" long and is made from a hardy steel. These pieces are elegant but not extravagant allowing them to effortlessly blend in with any home decor.
Cheap Candle Snuffer
Sometimes you just want the cheapest item available, I understand that. The trick to buying a lower costing item without sacrificing quality is to buy the smallest version you possibly can. Smaller items will have lower material costs without necessarily compromising quality.
To help you achieve this balance, and to get a high quality snuffer at an affordable price, I recommend the following snuffer:https://www.amazon.com/Brass-Candle-Snuffer-single-snuffer/dp/B007HZNV7A
What Is a Candle Snuffer?
I think this has already been answered somewhat, but I'll state it explicitly, a candle snuffer is a tool used to put out candle flames.
Candles now that you have snuffer
Now that you have the proper tools for managing a candle flame, you might as well buy some candles too! I recommend Midsummers Night by Yankee Candle Company. It has a natural fiber candle wick and comes in a quality parrafin-grade candle wax that produces an even burn. The Large jar is well worth the money, as it can burn for 110 to 150 hours.
How To Use A Candle Snuffer
Candle snuffers are pretty straightforward to use. When you are ready to put out your candle flame, place the bell of the candle snuffer over the flame. Gently lower the bell until it is just above the wax puddle. You shouldn't have to place the bell all the way down into the wax in order to snuff out the flame. After enveloping the flame within the bell, pause for a moment or two, and the fire should go out.
Why Is a Blacksmith Writing About Candle Snuffers?
Good question, I stumbled across these little tools one day while I was looking for new project ideas. It turns out, candle snuffers are a great little exercise for smiths. The bell head of a candle snuffer is a unique shape and provides a small to moderate challenge to forge. Sometime in the future I may have to provide a tutorial on how to make them DIY style, for now, it's best to just go over some of the best options already on the market place. There are some great candle snuffers for sale!
Conclusion
Candles are an experience enhancing light source that are used in our homes, in our churches, and everywhere where a bit of ambient light is needed. Using a candle snuffer is tasteful way to put out these candles when you are done with them. With candle snuffers you can keep both your candles and your house clean with minimal effort. They are stylish, and easy to use. I hope you come to appreciate these little tools as much as I do.