So you have something that needs pressing, which press should you get? It honestly depends on what you are pressing. I usually recommend a 12 ton or a 20 ton press for most common uses, but I go over 6 presses in this article ranging from a 6 ton a frame to a 50 ton H frame. Check out my review of the 6 best presses for sale:
Best 6 Ton Hydraulic Shop Press
6 ton shop press are ok for small arts and crafts type projects, but they do not have enough power in my opinion for serious shop work. It also seems to me that it's much harder to find a high quality press at the 6 ton capacity. That being said, for some of you, a 6 ton shop floor press is precisely the right tool for the job! So which one should you get?
This press features a spring-return press beam and comes with 2 press plates. This press also comes with an adjustable table which is very handy for prototype work where you will be working with objects of different sizes. There are two space settings and they are set 2.25-inches apart.
This press features a sturdy steel A frame which comes with a powder coat paint finish. It's listed operating distance is 2-inch to 4.3-inch(DOES NOT INCLUDE WORK PLATE) – several people in the reviews have been burned by this, so make sure to take the working plates into consideration when looking at operating distance. It has the dimensions of 15.5Inch L by 12.5-Inch W x 29.5-Inch H. It weighs 52-pound.
To sum up:
Sprint-return press beam
Comes with 2 press plates
Adjustable table with 2 space setting spaced 2.25-inches apart
Built with a solid A frame and features a powder coat paint finish
It's listed operating distance is 2-inch to 4.3-inch. It has the dimensions of 15.5inch L by 12.5-Inch W x 29.5-Inch H.
It Weighs 52-pounds.

As I said in the intro to this section, 6 ton shop presses seem to come with more problems than the larger presses, and the reviews of this press seem to confirm my suspicion. Some people in the review section claimed that assembly was difficult, and another user commented that the working space is too short for u-joints.
But don't let the negative reviews scare you off, if you are working with small arts and craft type projects and need a hydraulic press, this press is perfect for you. If you plan on doing heavier duty work, or plan on working with u-joints, bushings, ball joints, or other items, I highly advise you get a 20 ton press.
Best 12 Ton Hydraulic Shop Floor Press For Sale
12 ton presses are great for smaller projects and are the appropriate tool for many would be buyers. The trick is to avoid falling into the trap of buying the cheapest thing possible thinking that you will only use it for your current project.
You will find many uses for your shop press, I promise you. You will want a press that will hold up over time, as there is nothing more frustrating than a cheap tool that breaks down after just a few uses …tools are supposed to make your life easier not harder!
Luckily for you, I scoured amazon and found a 12 ton press which has good value per dollar and plenty of reviews:
This is a great press for small shops or at home garage shops. It can be used for many common tasks such as stamping, bending, and pressing (duh). It has a quality design with open side construction that makes it much easier to work on long pieces.
This Press is easy to assemble and is constructed in such a way so that it can be easily adjusted. To be more specific, the cross beams are easily adjustable which is convenient when pressing u-joints, removing or installing bushings, straightening fork tubes, and other common pressing tasks.
Dimensions! It's always important to take press dimensions into account as shop floor space is incredibly valuable. This press is 51 ½" tall x 19 ¾" wide x 3 ¼" deep. It has an adjustable hole spacing: 3 ½" apart. The Handle is 19 ½".
This press comes with square arbor plates to ensure you can be up and running as quickly as possible. It has heavy duty H-Frame made out of steel. It features an "easy pumping" system that has a long handle.
Additionally, it has a slide over table that fits between the sides, a 24" working range, and a single-acting spring-return hydraulic ram that allows for fast work cycles. On top of all these other great features, it has an adjustable lower bolster platform.
To sum up:
Great Press for Small shops
Designed with open side construction making it more viable for large pieces
Easy to assemble allowing you to get back to work faster
Easily adjustable crossbeams
This press is 51 ½" tall x 19 ¾" wide x 3 ¼" deep.
It has an adjustable hole spacing: 3 ½" apart. The Handle is 19 ½".
Comes with square arbor plates
Heavy duty H-Frame made out of steel
Easy pumping system with long handle
Slide over table that fits between the sides
24" working range
Single acting spring-return hydraulic ram for faster cycles
Adjustable lower bolster platform

All in all this is a great press that is a good step up from smaller tonnage table top presses. According to some reviews, this item may be shipped to you in multiple packages which may not arrive on the same day. Users report that the stand had small holes drilled in the base to make it easier to attach to the floor. Other users decided to attach casters (wheels) to make it more portable.
The only downside to this press is that is a bit on the small side. For odd jobs around the garage this is fine, but if you plan on doing serious pressing it may be worthwhile to buy a larger press. If you are at all worried about this, you can't go wrong buying a bigger press, I talk about some later on this article. I do believe this press offers good value for the price.
Best 20 Ton Shop Press For Sale
In my opinion, 20 ton presses are the way to go for most people doing ordinary work. Not only can they do more heavy duty operations than the 12 ton press, they also tend to hold up better over time. What's even better, 20 ton presses often only cost a little bit more than 12 ton presses, meaning you will still get good value for your money. Presses over 20 tons tend to ramp up in price pretty quickly, meaning you will want to have a good business case for buying larger presses.
Brevity is wit: 20 ton presses are the way to go!
This is a durable hydraulic shop press that is manufactured using powder coated steel. It has a 20 ton capacity that will be more than capable for most shop jobs. The ram extends from 2-¾"-10" and slides horizontally to accommodate different projects.
This press features an adjustable table height. There are eight height options, each spaced an even 4 ¾" apart. These height options make this a versatile press that is great for prototyping new pieces as you will be able to quickly change the work table to fit the job at hand.
Included with the press are two heel blocks which can help hold material in place.
The press itself measures 27-½" L 26-¾" W x 57-¼ H. The whole thing weight 169lb of solid steel. According to the product description this press can be used with a manual hand pump.
To sum up:
Durable 20 ton capcity hydraulic shop press
Manufactured using powder coated steel
The ram extends from 2-¾"-10" and slides horizontally to fit various projects
Has an adjustable table height with 8 separate options – all spaced out 4 ¾" apart.
Includes 2 heel blocks for holding pieces steady.
It's dimensions are as follows: 27 ½" L 26-¾" W x 57-¼ H.
The press itself weighs 169lb.

Like I said earlier, 20 ton presses are the "sweet spot" for most people. They are big enough to do real work, but they are not so big that they will break the bank. If you need a bigger press, I review a 40 ton hydraulic shop press later on in the article, but think carefully as to whether or not you really need that much pressing capacity.
To sum up:
There are a lot of 20 ton hydraulic shop presses for sale, but this one is easily my top pick!
Best 30 Ton Shop Press For Sale
This press is 425lb of solid craftsmanship, seriously what a well built machine! It has a 22-½" working width inside a riged, fully welded h-frame – this vital to ensure that you can use the full 30 tons of force without damage to the press.
It is both air and hand operated allowing you to take over the press manually when precise control is needed on trickier jobs.It has a 5.9-inches cylinder stroke. The piston head diameter is 2.375-inches.
The press comes with vee blocks.
This press also has some rather impressive reviews. It's rare for a machinery product to have near perfect reviews over a time frame of several years…accidents happen after all! I think the glowing feedback is yet another sign of a well engineered machine.
I really don't have much more to say, if your budget allows, get one now!
Best 40 Ton Pneumatic Shop Press For Sale
A 40 ton shop press is a serious piece of machinery, as such, it required a serious amount of investment in terms of both money and time(learning all the details of the machine to make sure you get the right one). While it's a serious investment, it can also yield some serious returns if used properly in a business setting, If you are looking for a 40 ton press, you are going to want a well built machine that will last for decades.
While it's impossible for me to recommend a press for EVERY circumstance in which a press might be used, I do think I have found one that will work well for most use cases:
First up, lets dive right into the specs:
Ship Weight: 551lb
Continuous Force (tons): 40
Working Pressure(PSI) 80-120
Max. PSI 120
Air Inlet Size(in. NPT) ¼
Working Range(in.): 0-35
Stroke Length (in.) 6 ⅞
Inside Bed DImensions L x W (in.) 27 ⅛ x 6 ⅞
footswitch included: No * – see safety section below (OSHA)
Winch Included: Yes
Dimensions L x W x H (in.)
Frame Construction
This press features a robust H-frame constructed from high quality steel and is built to exacting standards for quality and durability. After construction, this press is given a thorough chemical wash, which is followed up by a coat of lead free paint to ensure that your press will remain rust free for years to come. This special lead free paint repels grime, oil, and grease to ensure it doesn't end up an ugly eyesore in your shop.
This press has a large diameter hydraulic steel cylinder unity which reduces the amount of oil pressure needed to raise the ram. This improves the longevity of this already impressively made press.
Ram Construction
Strongway put just as much care into the making of the ram as they did the frame. This piston-ram is treated and polished to resist skiving. In addition, the piston-ram employs a Y-Style polyurethane sealing ring which prevents the load from falling slowly or bypassing oil drive. This sealing ring also has a backup ring.
This press has a double spring ram return for faster ram retraction. It also has an extra long handle included for easy pumping. If that weren't enough ,it has a push-button air trigger ram travel control.
Bed Height Adjustments
This press has a hand winch for fast bed height adjustments. This is great for iterative design cycles and prototyping.
Hydraulics
The hydraulic pump consists of QT450 Nodular iron, which is an iron with special material characteristics that result in longer durability in high volume situations. The hydraulics are powered by a high quality oil, which offers increased corrosion resistance and give the oil more flexibility in it's working temperature range (40 Degress F – 105 degrees F).
This 40 ton press has a polished pneumatic aluminum air pump with polyurethane double seal setup and has an integrated overload protection valve that helps you avoid overloading the system.
Standards
According to the sales page, this press is built in ISO certified facilities and is engineered using the same systems as aerospace technologies and the automotive OEM sector.
According to the same page, it meets ASME ASP 2010 standards
Summary
Wow, that's a lot of information! When it comes down to it, this is a well crafted press that provides 40 tons of pressure and is (relatively) affordable. As of the time of this writing, this press is selling for under 4 figures (not including shipping), which is a heck of a deal. As you go up in tonnages, the price for presses goes up more than linearly as there is less room for error as the presses must be manufactured perfectly to ensure safety. For those of you looking for a 40-ton pneumatic shop press, I think this is the way to go! Buy yours today.
Best 50 ton Shop Press For Sale
This is as big as I go in this article. While you can buy presses bigger – way bigger in fact- after about 50 tons I think it no longer makes sense to order them online or to read about them on sites like mine. If you need a press bigger than 50 tons you are probably better off working directly with company representatives. They will help make sure you get exactly what you need for your business case.
But enough about really big presses – although they are a heck of a lot of fun, I should really do a write up on them – let's get down to the business of finding a high quality 50 ton shop press for sale!
While we are discussing this press last in the lineup of presses, it probably the most impressive press (lol) of the bunch. This beauty is made by Baileigh and weighs in at an impressive 803 pounds.It has air and hand operations all contained within a solid h-frame. It has a 7.8-inch cylinder stroke and includes vee blocks. It also has a 2.75inch piston head diameter.
Unlike some of the other models discussed, this one does come with a foot pedal. All the hydraulics on the press are industrial grade to ensure long term durability. Like some of the other presses mentioned before, this press has a winch that allows you to effortlessly raise and lower the working table.
This is the biggest press featured in this article. What does this mean for you? It means that it's the best option for minimizing headache. You won't have to worry about whether or not you have "enough press". You won't have to worry about it breaking down after a few months of use. This bad boy will easily provide for most of your pressing needs.
Safety
If you spend a lot of time making stuff, it can get tiring hearing about safety precautions everytime you want to buy a new "toy." If it makes you feel any better, I sometimes get tired of writing these sections…
That being said, It's extremely important to take safety seriously when working with shop presses. You will often hear experience operators refer to hydraulic presses as being overtly scary, this is especially true for the big 300+ ton presses. This is because these presses exert tremendous pressure and the material being pressed can often act in unexpected ways…
I'll be blunt, things will shatter and break. Sometimes this means pieces of metal and debris will be launched out of the press at high velocities. This can kill or seriously maim a person. You must treat your press with the respect it deserves. Below are some guidelines to using your press from OSHA.
Make use of general machine guards such as barrier guards, two hand tripping devices, and electronic safety devices.
These guards must not create additional safety hazards, and must be attached to the machine where possible.
Use special hand tools to keep hands away from point of operation.
Keep operating controls away from the die area and employ dual palm buttons.
If a foot pedal control is used, make sure it is guarded
An emergency stop button should be available and easily accessible to the operator. A main power disconnect switch is required.
Keep your work area tidy to avoid tripping or slipping dangers.
Safety Issues Due To Machine Malfunctioning
The dangers associated with daily use can be exacerbated by machines that begin to break down. While a good press will work for thousands or even tens of thousands of cycles, it will eventually begin to break down due to wear and tear. Some common things to watch out for are listed below:
Oil leaks
Overheating
Loss of Pressure
Neglect
Oil leaks
This is a very common problem that can stem from loose fittings, incorrect oil usage and type, and fluid contamination. These leaks commonly occur around hydraulic lines, hose fittings, and occasionally even around the ram.
These leaks when not properly repaired can put the machine at risk for a catastrophic failure. In addition to equipment damage, workers may be injured from chemical hazards and malfunctioning equipment.
Overheating
Overheating can be the result of improper use of the press as well as using the press at a higher volume or workload than it's rated for. Overheating can degrade oil and cause seal damage, which may lead to leaks.
Loss of Pressure
In addition to inconvenience and possibly even ineffectual pressing, a loss of pressure can cause the ram to drop unexpectedly without being activated. This is a safety hazard.
Neglect
Always keep up on proper maintenance procedures – see maintenance section.
This is not intended to be an exhaustive list.
source
Uses For A Shop Press
With a tool as versatile as a shop press, it's not possible for me to sit here and brainstorm every possible use for a shop press. To get around my own inadequacies, I went to take a look-see at what other folks where using the shop press for. I compiled the list below, and provide links to the pages I found them at.
Boring disclaimer: I can't vet the safety and efficacy of all the uses found below. This is literally just a list of stuff I found off google search, it's not a list of best practices!
22  Uses for a shop press
Many people report using it as a vice for cutting or bending material
One user reported using it as a log splitter, I suspect this is not very effective but it did make me chuckle!
Separating rusted parts
Straightening bent parts
Compressing used oil filters
Punching rubber gaskets
Straightening aluminum plates
Mounting actuators to valves
Broaching keyways
Re-sleeving plug valves
Pressing bearings
Using punch/die combos to press forms
Riveting work
U-joints, bearing on axle, small forming dies to bend flatbar – rebending after welding.
The 50 ton does light straitening and bearing work as we have shims and tubes to push thing in a safe and controlled manner.
The 70 ton Iron worker shears, punches ,copes, and bends but can be used as a big ass vice or straiten big steel parts.
The 300 ton is scary as hell but it will push shafts out of rock crusher parts, saw mill parts and put solid tires on forklifts.
Crushing cans (apparently) – I just use my foot
Coining out jewelry
600 ton – used for locomotive wheels , crusher parts, pulleys, bearings , tripper car wheels, taper keys, gears,etc
Punch holes in cross bars for grates and railings
General shearing and bending
sources:
There are also less tangible benefits to owning a shop press. You may for instance, find yourself becoming more popular among your neighbors and friends. Garages with a shop press often attract the attention of people who have a one-off need of it. If you play your cards right, you may even get a free 6-pack out of the deal, how's that for an ROI?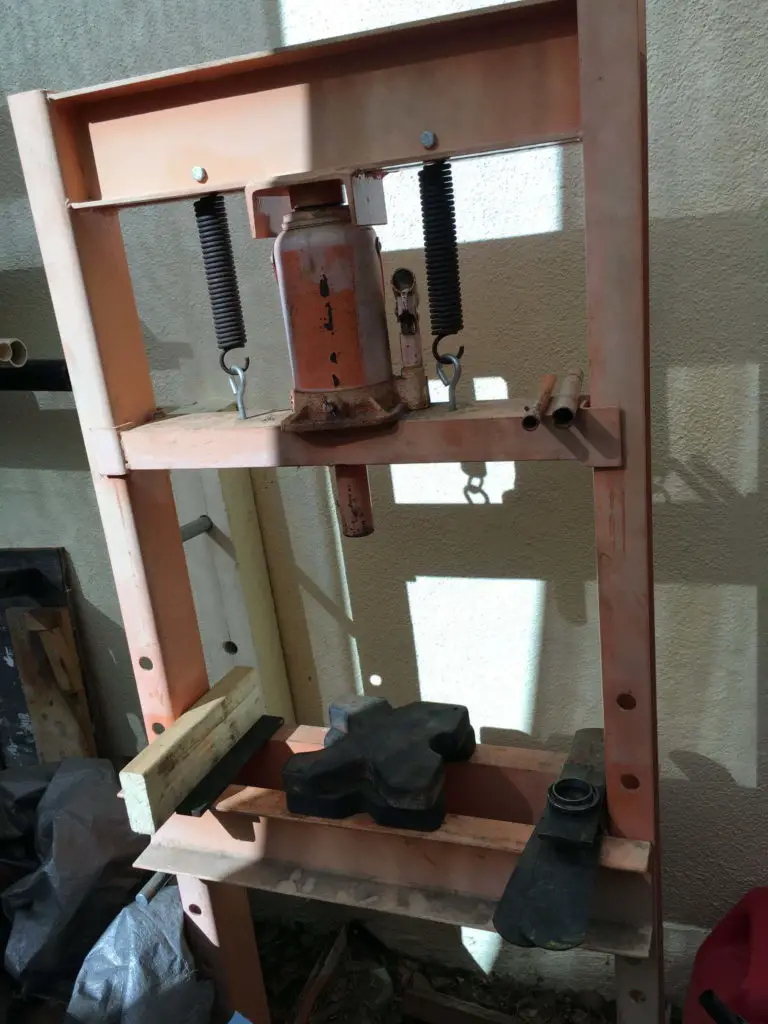 Types of Shop Presses
At the end of the day, all presses do the same job, they press! While they ultimately serve the same function, hydraulic shop presses do come in some variations. For example, they may have different frame shapes. The most common frame shapes are as follows
H Frame
C Frame
A Frame
Custom Presses
Which one is "best" depends on your shop and the size of the projects you are working on. Some companies will also add additional convenience features such as a movable work table, or even a movable frame!
Another variety is the air operated press. In some instances electricity is not easily available, so in those situations, you would use an air operated hydraulic press.
There also presses that have a "double acting" features that makes it easier to press onto dies as they offer more lifting power allowing the ram to properly leave the contact surface.
In addition, if we take a broader view and look at presses in general, there are a whole bunch of them:
23 types of Shop Presses:
4 post hydraulic press
Arbor press
Assembly presses
C-frame presses
Compression molding presses
Forklift tire press
Gantry straightening press
Forging presses
H-frame Presses
Hydraulic Presses
Laboratory Presses
Laminating Presses
LIM Presses
Mechanical Presses
Platen Presses
Power Presses
Pneumatic presses
Press brakes
Stamping presses
Straightening presses
Tableting press
Transfer presses
Vacuum presses
Source for the above list
And I'm sure there are even more types than this, engineers and manufacturers are constantly coming up with new designs. In addition, there are many at home tinkerers that make their own creations.
Shop Press (Hydraulic Press) Maintenance Procedures
How Do Hydraulic Presses Work?
Hydraulic presses work by utilizing the properties of fluids as described by pascal's law:"A change in pressure at any point in an enclosed fluid at rest is transmitted undiminished to all points in the fluid." Hydraulic systems utilize this phenomenon by applying force in a small area of fluid which is then converted into force at a wider opening thus creating more force output or leverage.
How do Pneumatic Presses Work>
Pneumatic presses work by cleverly channeling the force generated by releasing compressed air. It differs from hydraulic presses in that it tends to be quicker and tends to avoid the messes associated with hydraulic fluid.
How Much Tonnage Do I Need For My Shop Press?
As mentioned earlier, it depends on your use case. If you just need a press for small artistic projects, then a 6 ton will probably be ok for most projects. If you are looking for a press that can be used for more industrial purposes, then I would recommend a 20 ton press. You could probably get by with a 12 ton, but in my experience the 12 tons get beat up faster and can't handle as many use cases.
There are a number of accessories kits for sale on amazon that can be used to augment your press. For example, check out:

You can also purchase a number of pin sets, for example:

There are also shop press punch kits for sale:

A number of companies make guards or ejection curtains that can help protect employees from accidental projectiles while using the press. Example of a shop press guard for sale:

While many presses come with a set of bed plates, the quality can vary tremendously. On cheaper presses, these plates are often made of cheap cast iron.Cheap cast iron bed plates can be a safety hazard as it doesn't take much for them to shatter or break.
Luckily you do have good options should you choose to use them. For example SWAG Offroad makes a pair of plates made out of 50-A572 steel. These things look pretty well made and have great reviews. If you are frustrated with your old arbor press plates I recommend checking them out.
There are a number of bearing adapter kits for sale that can help you deal with bearings:

Shop Press For Forging
Presses can also be used for forging, two common use cases are looked at below:
Shop Press For Blacksmithing
While most blacksmiths tend to use hammers (either power or manual), there are times when press forging is the proper technique to use. Press forging allows you to slowly apply continuous force, which creates a different set of material properties on the stock being used. Pressing allows you to deform the entire work piece, as opposed to just the contact area (as with hammers). Pressing also allows you to have better control over the internal strain rate of the stock.
There are some disadvantages to using a press for blacksmith work. Mainly, the stock will lose heat much faster in a press as pressing is a slower process and the stock will remain in constant contact with the dies. Many pressing operations will use heated dies to get around this. In many high volume circumstances, press forging is more economical than drop forging.
Shop Press For Knife Making
Can you use a shop press for knife making? Yes and no. Shop presses are great for drawing down material, they are quiet, and are overall pretty versatile. If you plan on making thin knives < ⅜" or so, the press can suck the heat out of the material so fast that it no longer becomes practical to use one. It really just depends on what you are doing.
Title Image source